Concrete laser screed leveling machine as a kind of advanced construction equipment for concrete construction, you should deeply understand the whole concrete construction process, so that you could use the laserscreed machine masterly. The picture 4.1 is the basic construction process of concrete of the domestic industry standards.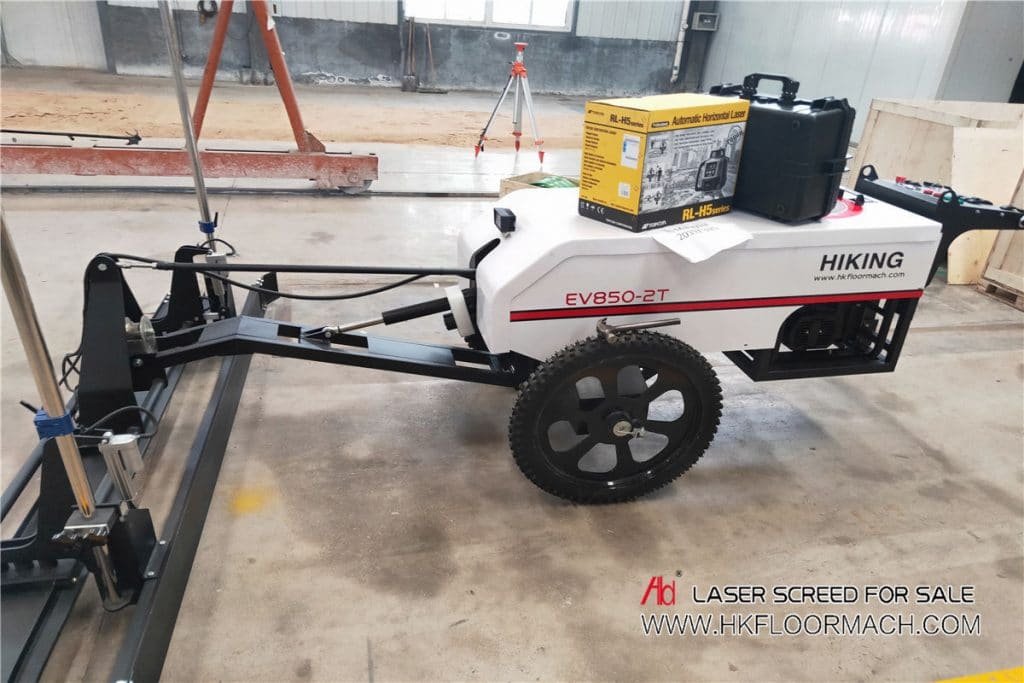 Description of basic construction process
1、Preparation(Details please consider picture 4.2 about the preparation before construction)
1.1Adjust the laser leveling machine after dealing with the grass roots, Fix the datum level according to the original level; Laying plastic film, lashing steel net(according to the requirement), set border, laser emitter installation, Introduce floor elevation into the laser leveling machine according to the original level.
1.2 Conveying concrete
Using concrete vehicle transport the concrete, and sent to the construction site.
1.3 Elevation check
Check the floor elevation with a handheld receiver, introduce floor elevation into the laser leveling machine, adjust the reference points on the machine(±0.00).
2、Concrete paving
Within the effective construction of the laser leveling machine, using artificial to make the concrete initial flat 1-2 cm higher than the elevation (the concrete height depends on the slump of the concrete), and the concrete laser leveling machine can complete vibrating, compacting and leveling work at one time.
3、Smoothing
When the cast concrete has just begun to solidify, smoothing with the polishing machine, then trowelling by artificial.
4、Maintenance
After the trowel is finished, no weight should be moved on the floor for at least 7 days, and you should keep the floor wet, spray curing agent for curing (according to the requirement), in order to achieve good maintenance effect, the surface should be covered, isolate the concrete from the exterior, no one is allowed on the floor before the strength of concrete does not meet the requirement.
5、Joint
The cutting seam shall be carried out after the ground surface treatment is finished according to the design requirements, make sure the concrete is finished before it finally condenses, the space, width and depth of the joint shall meet the requirements of design and construction standards.
6、Others
Filling the joint, the concrete cannot be used until reach its strength.