Preparation work before the operation of the laser screed
In the 21st century of economic globalization, with the development and the rapid spread of China's flooring industry, the floor industry is increasingly booming, and it has solved the problem that various engineering ground needs leveling needs the devotion of a lot of manpower and material resources. The concrete laser screed has better ability in combination, strong adaptability is strong, the resistance is also good. When the ground needs surface leveling, the concrete laser screed needs to do some preparatory work so as to preheat the machine for achieving desired working condition.
he concrete laser screed needs preparatory work before running. After the base is well treated, equipment debugging should be conducted on the laser screed, and fixed benchmark should be introduced and made according to the original standard point; lay plastic film, bind reinforcement network (according to design needs), and support side mold; set up laser emitters, and introduce the floor elevation into the laser screed according to the original benchmark.
Firstly, transport the concrete, adopt commercial concrete, and deliver them with concrete car to the construction site.
Secondly, the verify and check the elevation,take hand-held receiver to verify and check the elevation of the floor, introduce the elevation into the concrete laser screed, and adjust the benchmark (± 0.00) on the screed.
As to concrete paving, within the scope of effective construction of the concrete laser screed leveling head, first we should primarily take human labor to level the concrete to be 1-2 cm (the specific height should be confirmed according to the falling degree of the concrete) higher than the standard elevation, and the concrete laser screed should be taken to complete a one-time vibrating, pounding, compaction, and leveling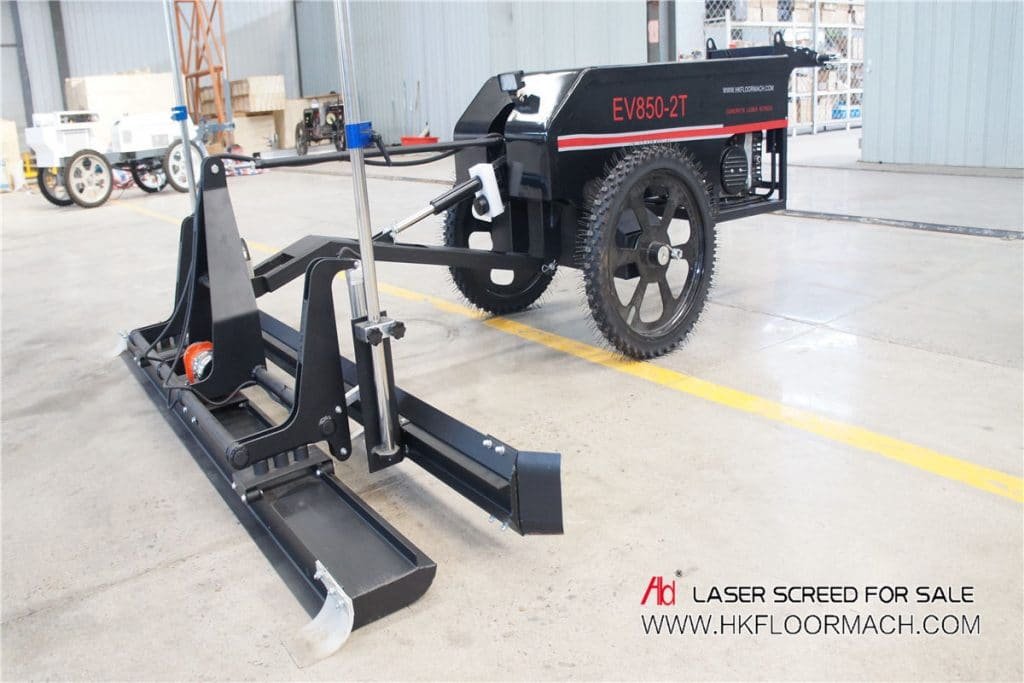 When the concrete after pouring realizes the initial pouring and pounding, the polishing should be done by the polisher, and then it should be human labor taken for wiping and finishing the shining: after the completion of the wiping and polishing of the concrete, it is not allowed to move heavy articles on the floor at least within 7 days, and moist maintenance status should be kept (in accordance with the design requirements). In order to achieve good maintenance effect, the surface should be covered so that the concrete could be isolated from the external world. During maintenance, if the concrete strength on the surface layer does not meet requirement, people is strictly prohibited from stepping onto it.
Kerfing shall be carried out after the completion of floor treatment according to design requirements, that is, to ensure that it should be conducted before the final coagulation of the concrete. The spacing, width and depth of the kerfs shall meet the requirements of design and construction specification standards.