Operation of laser screed machine is very simple, working principle of walk behind type is the same as that of ride on type. Now we will introduce them in steps:
One, set up of laser screed
Firstly, laser emitter should be framed, emission port should be framed higher than operator's head to prevent signal block. Please note that position to frame laser emitter should avoid from widows with glass or other slippy object which can reflect laser signal. Because receiver of laser screed machine is sensitive, laser signal reflected is easy to disturb normal laser signal received by the receiver.
Confirmation of small receiver's position on receive pole
hand pole is placed on ±0 position, small receiver's position on receive pole is adjusted by hand until small receiver shows 0 ( the green light lit up). When small receiver shows o, position of hand pole is the ±0 position
3.Set up of laser screed machine
In this step all types of the machines are set up in the same way. Bottom of and pole is buckled on the scraper blade of the machine, height of both sides of scraper blade is adjusted to make the small receiver show 0 on both sides of the scraper blade. By this way, height of scraper blade bottom is the height of ±0 position. After setting the height of leveling head, large receiver of the machine is placed on both sides of leveling head. Large receiver position is adjusted by hand, to make the green light lit up, at this time set up of the machine if nearly finished.
4.Re-correction
In order to make the machine exactly correct, re-correction is required. There is some difference between walk behind laser screed machine and ride on laser screed machine during re-correction. Firstly leveling head of the machine should be adjusted to disorganize leveling position which has been found before, then automatic button of the machine is started, the machine will adjust automatically to be leveling state according to the position of laser signal. Hand pole is used again to measure on both sides of the leveling head to measure error on both sides.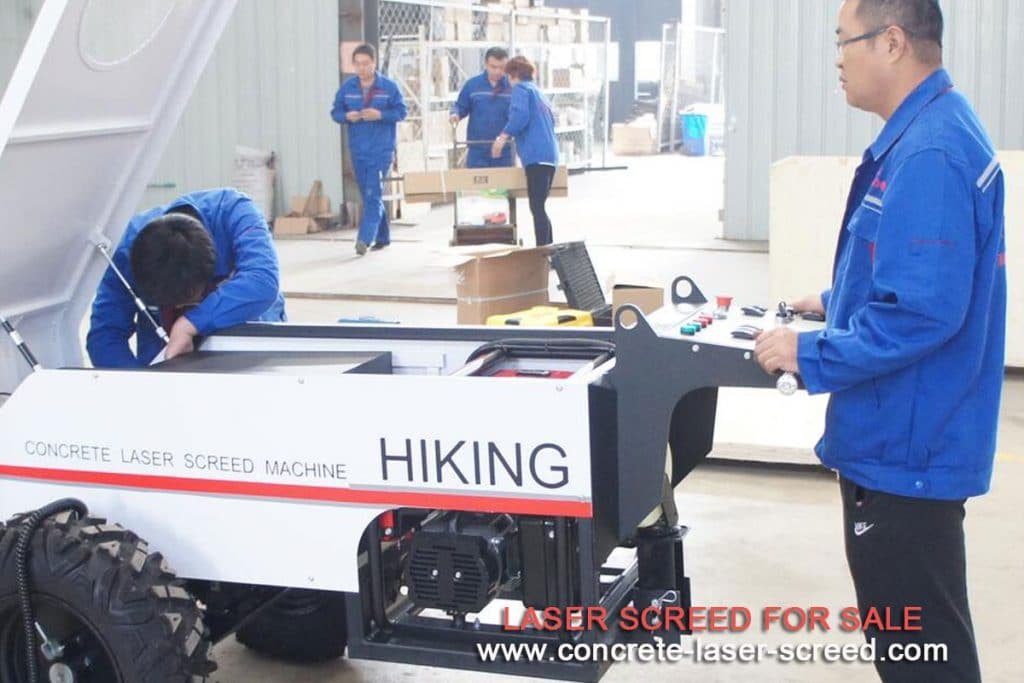 Walk behind laser screed machine is required to be adjusted through manual adjustment of large receiver position; ride on type is just required input of measured data into system to make the machine eliminate error.
Two, construction performed by laser screed machine
When construction with the machine, a staff is assigned to take hand pole to make measurement, then pavement height is confirmed through the measured date, a worker is directed to perform pavement. Function of hand pole is to measure the height of paved concrete, height of initially paved concrete is paved 5mm over ±0 point. The machine is driven into concrete to perform leveling after some certain area is paved. Ride on laser screed can conduct automatic leveling directly, while besides driver, walk behind type requires two operators to follow the leveling head of the machine to expel extra concrete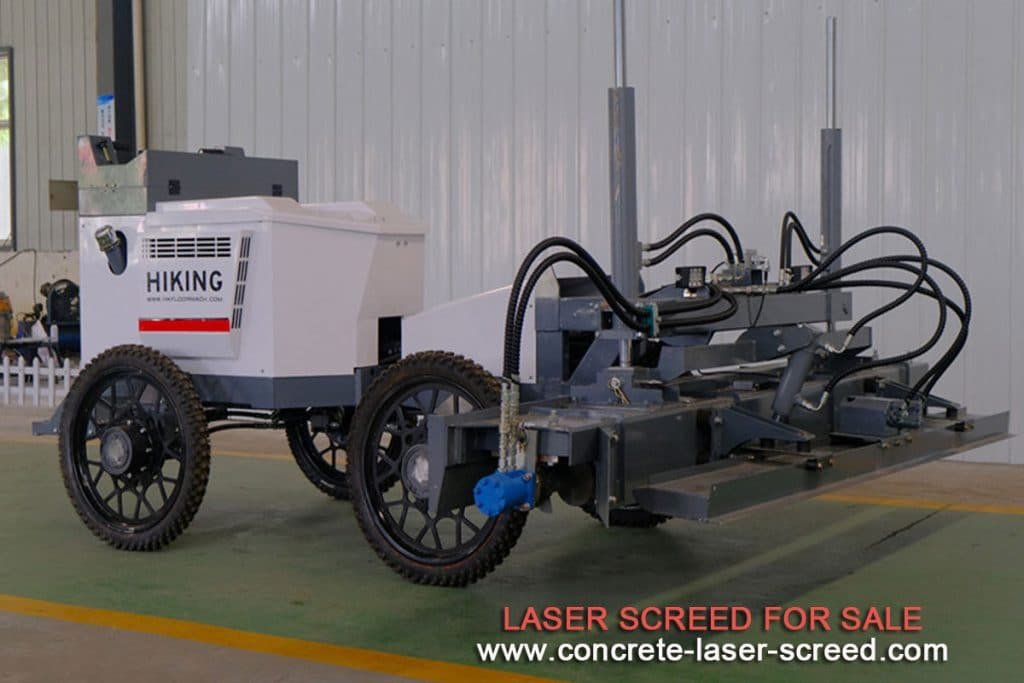 Three, conclusion
After leveling through laser screed machine, you can also use large trowel to erase concrete area after leveling to make the surface of concrete more smoothly. After a series of leveling work, concrete finishing machine is suggested to be used to perform finishing of concrete when concrete reach to some strength. Here we particularly introduced how to use the machine, if you want to know the whole construction procedure, we have written a detailed article about it, please refer to : how to level large area of concrete floor.
If you want to buy this machine, please check: Laser screed for sale