Power Trowel is one kind very common concrete floor finishing machine. It has a smaller size and light weight, which is easy to carry and can be used in a small space. Hiking machinery is a professional trowel machine sales company. In contact with customers, how to use a power trowel is the most interesting question for everyone. In fact, the operation method of Power trowel is even simpler. We have introduced the use of ride on power trowel before, if you are interested, please check:
Preparing the Machine for First Use
Make sure all loose packaging materials have been removed from the machine.
Check the machine and its components for damage. If there is visible damage, do not operate the machine! Contact dealer immediately for assistance.
Take inventory of all items included with the machine and verify that all loose components and fasteners are accounted for.
Add fluids as needed and applicable, including fuel, engine oil, and battery acid.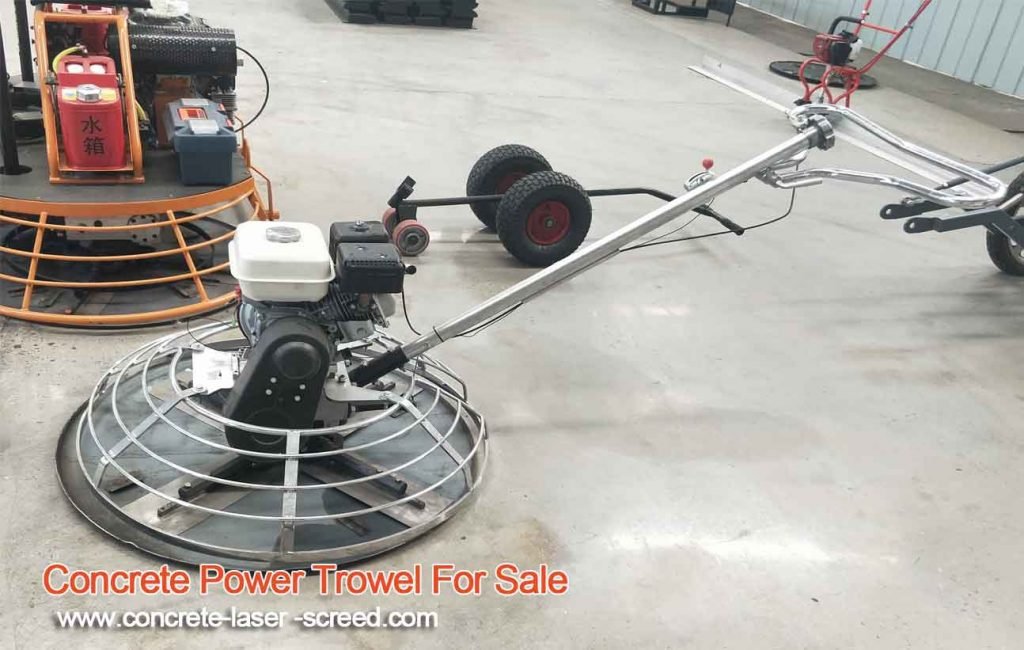 Installing the power trowel blades
There are three types of blades available for the power trowel. Float pans are large style blades, which hook on over finish or combination blades, used in the earliest stages of work, and are not pitched.
Finishing blades are used in the final stages of working, and are progressively pitched to burnish the concrete.
Combination blades can be used throughout the concrete working process. They are used in place of float pans and finishing blades.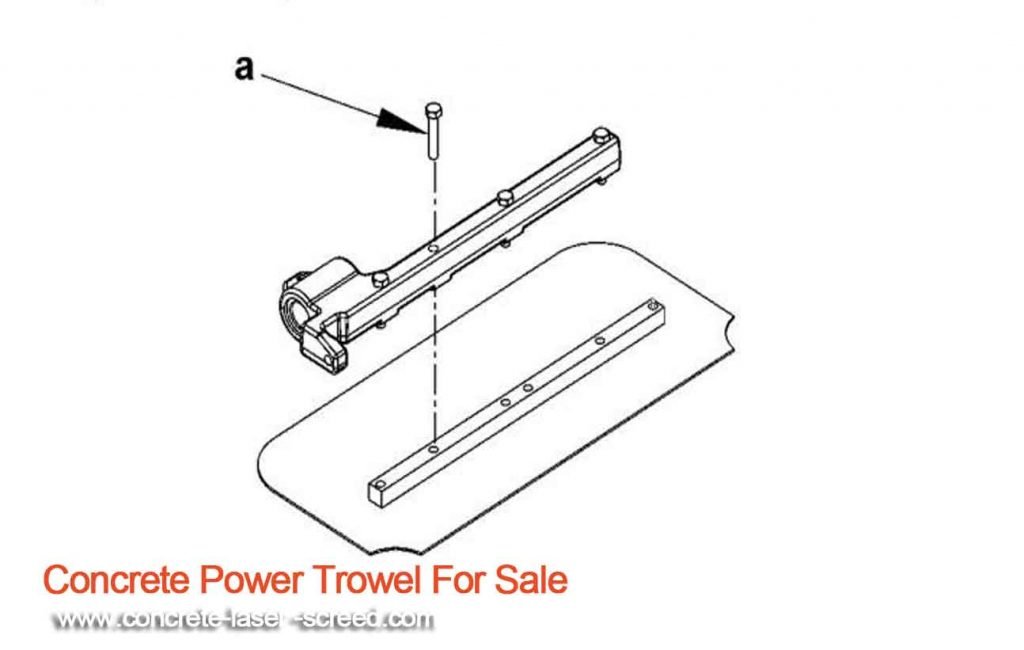 Note: Do not put larger diameter blades on a smaller diameter trowel.
Finishing blades are flat on both edges and can be installed in either direction.
When installing combination blades, orient blades as bellow. This positions the raised edges of the blade correctly for the clockwise rotation of the machine. Secure blades to power trowel arms with screws (a). Dip threads of screws in grease prior to installation. This will prevent concrete from cementing the screws in place and will make removal of the blades easier later on.
Warning: Do not lift the trowel overhead with a float pan attached, as the pan could fall off and strike personnel working in the vicinity.
We have introduced power trowel blade adjustment and use, if you are interested, please check:
power trowel blade adjustment and use
Before Starting
Before learning how to use a power trowel, you need to understand how to prepare the machine for use. Before starting the power trowel machine, you need to check the following items:
All handles are free from grease, oil and dirt.
All control levers are in the neutral position.
All bolted joints are tightened.
Fuel level
Oil level in the engine
Oil level in gearbox
Air cleaner maintenance indicator
Condition of Ring Guard
Condition of trowel machine arms and blades
NOTICE: Check the oil level in the engine and machine before starting. The warranties are VOID if the machine run without oil.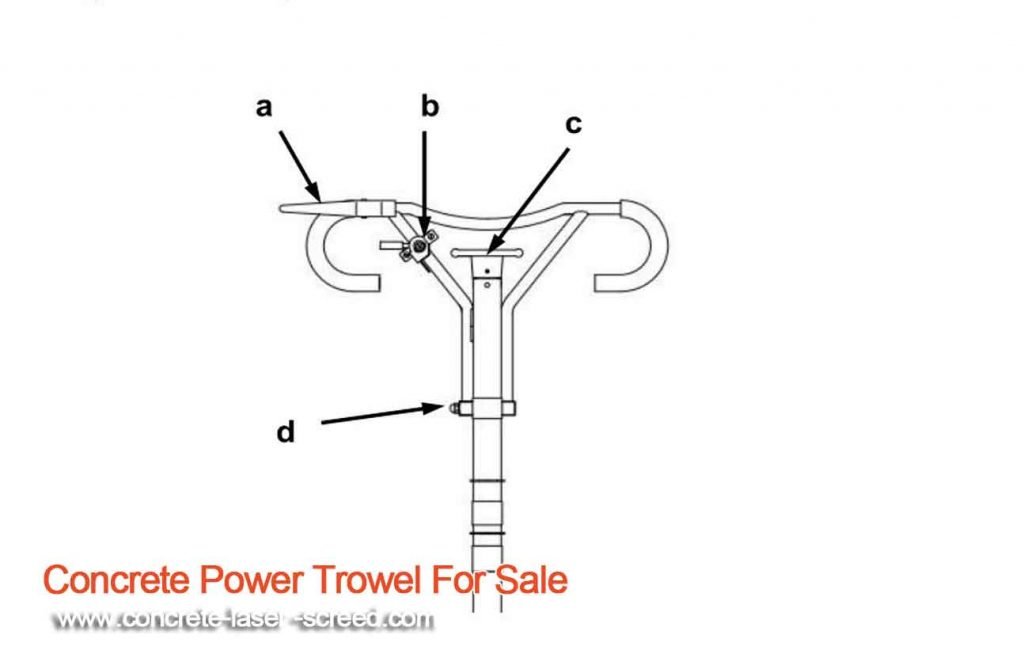 Video
Safety Stop Switch
The switching mechanism of this switch should operate freely and should always be kept in this condition. With the switch in the OFF position, the engine should not start or run. The purpose of this switch is to stop the engine in a runaway situation, (i.e. the operator releasing the handle during operation).
To Start
Now is the most important step in understanding how to use a power trowel. Before starting the machine must know the location and function of all controls. Make sure the safety stop switch is in the stop position. If it is not, push the lever down to the stop position before attempting to start the engine.
1. Open fuel valve under fuel tank
Note: If engine is cold, move choke lever to closed position. If engine is hot, set choke to open position.
2. Turn engine switch to "ON".
3. Move the throttle lever to the idle position.
4. Pull starter rope.
Warning: Do not place foot on the ring guard when starting the engine, as severe injury can occur if foot slips through the ring guard as the blades start to spin.
5. Open choke as engine warms.
6. Open throttle and safety stop switch to operate trowel. Adjust blade RPM with throttle speed to suit conditions.
To Stop
Reduce engine RPM to idle by moving the throttle lever to idle position. Release the safety stop switch. Turn engine switch to "OFF".
Now I'm sure you have a fully understand of how to use a power trowel, If you want to know more about the power trowel, welcome you contact us!
Hiking machinery is a professional concrete flooring supplier. In addition to power trowel mchine, laser screed for sale, we also work for roller screed, power screed, truss screed and others flooring machines.