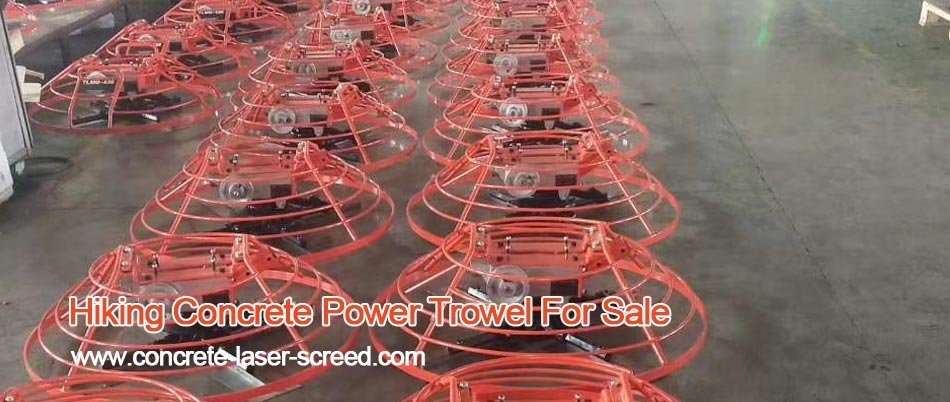 Concrete Power Trowel For Sale
Concrete power trowel is also called walk-behind power trowel, concrete power float, concrete finishing machine. It's structure is a spatula rotor driven by a gasoline engine, and the blades is installed on the bottom of the cross in the middle of the rotor. The inclination direction of the blade is same to the rotor's rotation direction, and the V-belt is driven by the gasoline engine to rotate the balde rotor. When operating, set up the machine, hold the joystick, push the two forward together to move forward, and pull backward together to move backward. It is mainly used for the surface of cement concrete slurry, troweling, finishing. Same as ride on power trowel, it is suitable for the construction of wear-resistant floor and epoxy floor. The surface of the concrete treated by power trowel machine is flat, smooth, good in coagulation, and extremely strong. It can smooth over 100 square meters per hour on average, and the construction efficiency is more than 10 times that of manual finishing work.
Application Scope
Power trowel machine can be widely used for smoothing and troweling the concrete surface of high-standard factories, warehouses, parking lots, squares, airports and frame buildings. It is the tool of choice in concrete construction. Compared with ride on power trowel, it is small in size and easy to move. It can also be used flexibly in a small indoor area. It is usually used in the follow-up work of laser screed or roller screed to finish the concrete floor after leveling.
If you have quastions about our machine, please inquiry us. We will reply to your email in 24 hours.
Get a quotation Now!
Concrete Power Trowel Price and Products